The essential that every adventurer needs Water Bottle Pouch
Going fishing? Camping? Or maybe hiking? Wherever your journey takes you, having this essential by your side will make it much easier and more enjoyable. Water Bottle Pouch is main item to satisfy your thirist in secure way.  Moreover, adjustable shoulder strap for easy carrying.
Zipper Closure — Keeps your bottle safe with a stylish zipper closure.
Bottles ranging from 500 mL to 1 litre are compatible.
Cleaning is simple with a wet/dry cloth.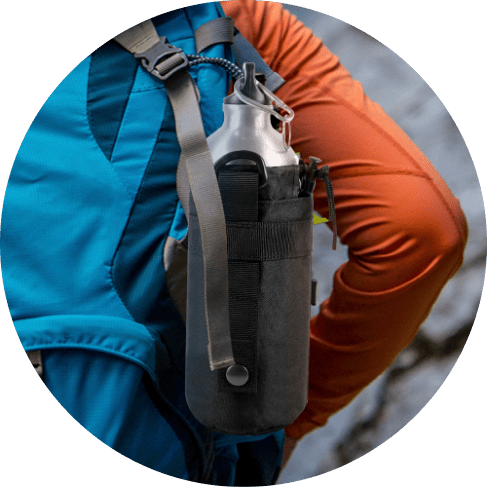 Water bottle specifications
Always keep yourself hydrated!
Bottle pouch details
Main material: 600D polyester. Weight: 2.5 oz. Height: 6.3". Diameter: 3.5". Capacity: fit for 500 ml water bottle.
Extra durable for a long usage period
The
pouch
is made out of durable materials, such as high-tensile ripstop oxford. It is scratch-resistant and won't fade away easily even after a long period of use.
A very convenient accessory
Your water bottle will stay steady in the bag thanks to the
rubber
string. Hang it on your belt or on your backpack to save extra room.
Fitting for many activities
This is one of the travel essentials that you definitely need to take with you! Great for outdoor climbing, cycling, traveling, camping, etc.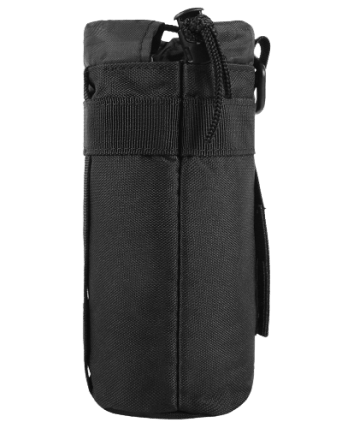 Take your water wherever you want
Good quality polyester material that is waterproof, sturdy, and does not easily get dirty, making it ideal for hiking, trekking, camping, and other outdoor activities.
The top has a drawstring closure to keep the bottle from falling out. The bag has an elastic belt around it that allows it to accommodate bottles of various sizes.
As a result of the mesh bottom, the liquid does not collect at the bottom.
It can be fastened to backpacks with two buckles. Moreover, it's a stylish, comfortable and convenient way to take your water or beverage with you, wherever you go.
So, With this water bottle pouch, your outdoor trips will become more pleasant and enjoyable!