Remarkable design
Drink water with no worries
Have you recently thought about getting yourself a water bottle? Well, maybe it's high time you got one. Retractable Outdoor Silicone Bottle is an incredibly practical outdoor water bottle. Because of its foldable design, you can fold it to a size that's convenient to take with you wherever you go.
Your body absorbs toxins from food, beverages, the air, and other environmental contaminants on a daily basis. These poisons disrupt your body's natural balance, making you feel tired and odd. Drinking water cleanses your body by assisting organs such as your kidneys in filtering and disposing of waste from your blood.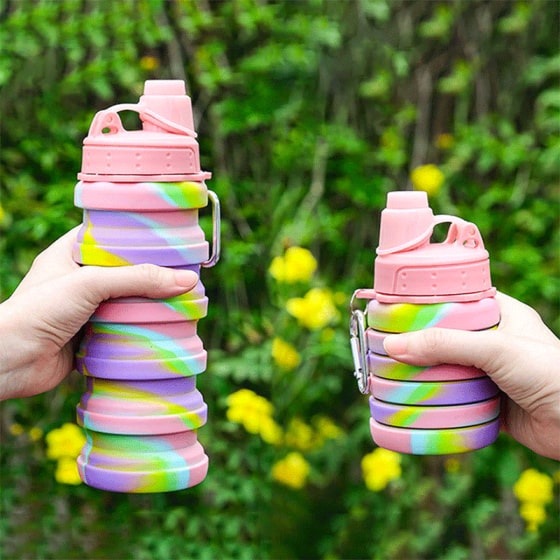 Water bottle specifications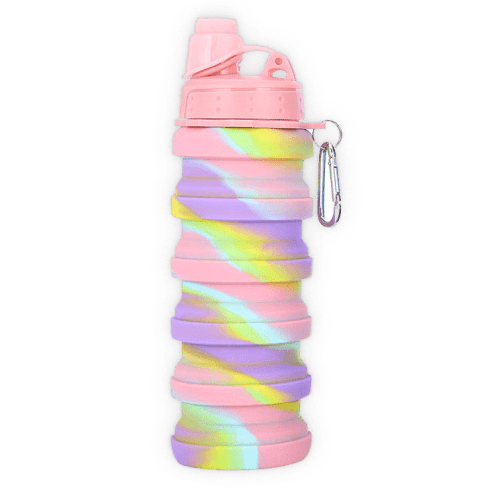 Product details
This foldable
water bottle
comes in a stylish camouflage pink color. Size when folded: 3.14" without lid, 5.5" with lid in height, with a 2.56" diameter. Full size: 6.9" in height without lid, 9.25" with lid. Weight: 5.6 ounces. Main materials: food-grade silicone, BPA free, food grade PP. Cold and heat resistant.
Incredibly convenient design
Safety buckle design allows easy attachment on a bag for trouble-free carriage, wherever you go. Also, the removable design allows seamless disassembly and cleaning. Capacity: 17 fluid ounces.
Incredibly convenient way to drink water with Retractable Outdoor Silicone Bottle
With this amazingly designed water bottle, no matter where your plans take you, you can easily hydrate yourself, whether you're doing outdoor activities, traveling, or participating in sports. This water bottle is the perfect solution to keep yourself
hydrated.
It is good for your heart.
Your heart is a large muscle that is constantly pounding to ensure that all of your cells receive enough oxygen. Dehydration, or your body not retaining enough water to operate properly, is a common cause of overworking your heart. Moreover,  You will be amazed at how comfortable it. Incredibly convenient way to drink water.
So, Drink water daily withouy any fear and stay healthy.