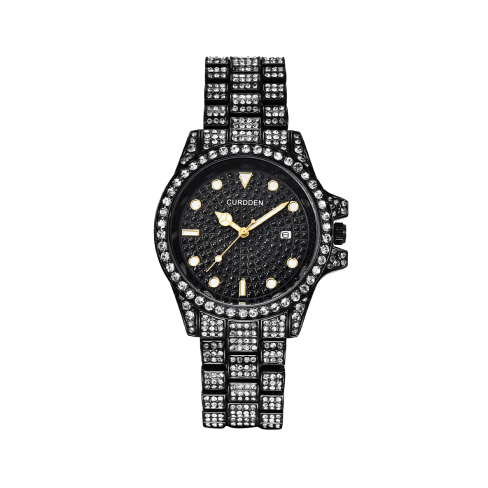 A luxurious Black Circle Watch
Create an elegant look
The stunning Black Circle Watch conveys the very essence of dignity and functional elegance. Designed for both men and women wanting to create a gorgeous classic look, the Black Watch is a refined and unique piece of jewelry, perfect for any occasion. Furthermore,
wristwatches
 from the battlefields of the late 19th and early 20th centuries have been transformed into a modern fashion accessory by the fashion industry (New York Times). With so many various brands and designs to choose from, your watch may truly make you stand out these days. Luxurious watches can also serve as a symbol of your wealth or 
social standing.
An elegant accessory
Your head-turning style starts on your wrist Black Circle Watch
Black Circle Watch details
The watch has a coal black color. Its face and 9.4 in. long band are enchased with rhinestones, creating a beautiful gleam as they catch the light.
Easy to take care of
You'll be glad to know that stainless steel jewelry doesn't get corroded or rusted. Keep the watch in a cool, dry place. If stained, dry with a soft cloth.
Little details for irresistible glam
Inspired by classic jewelry, this stunning watch can add respectability to your daily looks. Wear it with both classic and casual outfits.
Long lasting & durable
The Black Watch is a high quality watch.  crafted from stainless steel, the metal that can withstand many impacts.
A timeless gift
You can't go wrong when you choose a stylish watch as a gift! It is a classic for many occasions. Make your loved one feel cherished and adored with this splendid Black Watch! Created with special attention to the details, it will never go out of style! It fits for daily use! Indeed,  a watch, in my opinion, can be more useful than you realise. It has the potential to elevate your style and, most likely, your life to new heights. WHY NOT START WEARING A WATCH TODAY if you haven't already?