The irreplaceable bike accessory
No children's bicycle is complete without a Bike Handlebar Bell. Make sure your child is protected while riding their beloved bicycle with this great handlebar hooter. When your child is riding their bike, a bicycle hooter gives them the independence and security they require. With this blue handlebar hooter, your youngster will be able to enjoy their time on the bike even more while also feeling protected.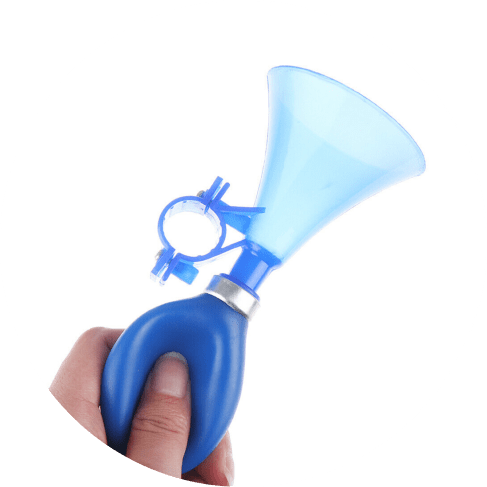 Handlebar hooter specifications
Squeeze to honk!
The size
The hooter comes at a size of 5.9" x 2.9" with a 0.8" hole for setting up on the handlebar of the bike.
Hooter details
Main materials: silicone plastic suitable for most bicycles. Color: blue.
A necessary accessory
Riding a
bicycle
can be a dangerous activity, not only for your precious little one but for others around him or her. But with this hooter, you ensure the safety of your child.
Easy to set up
The handlebar hooter is very easy to set up on the bicycle. All you need is a
screwdriver
. Unscrew the little screws, place the ring attachment on the handlebar and screw back the little screws.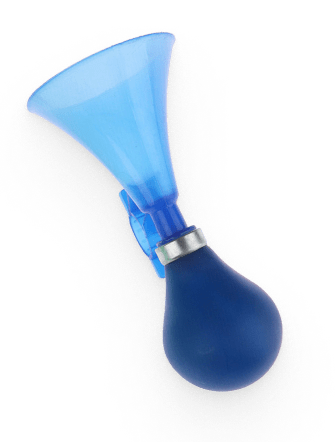 Simply squeeze it and go!
A bicycle hooter provides the freedom and safety your child needs when they are enjoying their time riding their bike. With this blue handlebar hooter, you allow your child to enjoy his or her time on the bike even more and feel safe at the same time. Metal bike horn of excellent quality
Attaches to any handlebar, including bikes and scooters, with a screw.
Squeeze the rubber bulb to emit a traditional two-tone honk that is loud enough to alert others.
Choose from a variety of colours for the perfect bike decoration.
A simple and amusing air trumpet that is ideal for usage by children. set up the Bike Handlebar Bell and wnjoy your journey!