32oz Infuser Bottle of flavorful hydration
Increase your daily water intake by adding some flavor to boring water with our 32oz Infuser Bottle BPA-free . With the full-length infuser rod, every last drop will soak up the vitamins, minerals, and most importantly, the delicious flavor you have been missing out on! Your body absorbs toxins from food, beverages, the air, and other environmental contaminants on a daily basis.
These poisons disrupt your body's natural balance, making you feel tired and odd. Drinking water cleanses your body by assisting organs such as your kidneys in filtering and disposing of waste from your blood.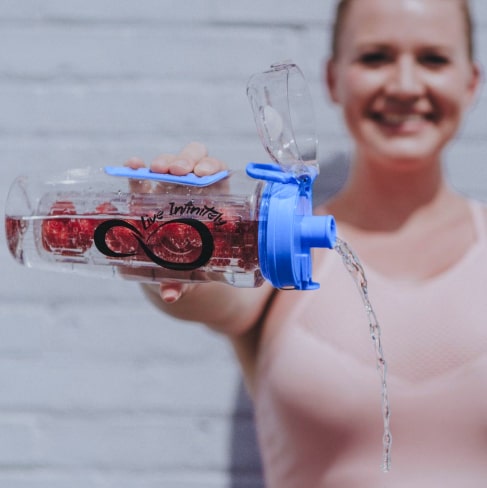 The infuser bottle specifications
Gym bag-friendly lids
This feature still allows for single-handed operation while assuring the bottle never accidentally comes open in a backpack or gym bag
Auto align lid
The lid will center every time aligning itself, so the clear flip top is away from your mouth while drinking. You will surely love it!
Fully flavored all the time
Industry's first full-length infusion rod – toss in as much fruit as you can handle, and you will still have room left over!
BPA-free Tritan plastic on all components
With details like the infuser rod and lid made of durable, BPA-free Eastman Tritan, this infuser bottle is perfectly safe for the users.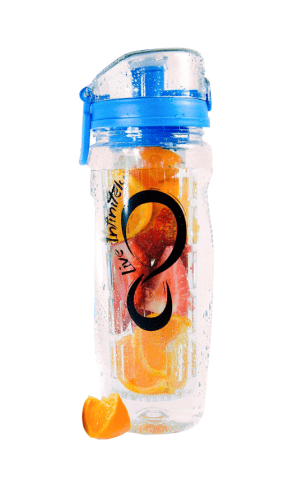 Keep yourself hydrated throughout the day! with 32oz Infuser Bottle
Crush your hydration goals with time-tracking water lines from 8am to 5pm to keep you on track throughout the whole day! With the bottle's ability to flavor your water until the very last drop. You will have a great tasting source of fuel all day!
It is good for your heart.
Your heart is a large muscle that is constantly pounding to ensure that all of your cells receive enough oxygen.
Dehydration, or your body not retaining enough water to operate properly, is a common cause of overworking your heart.